Effective IT (Information Technology) implementation is essential to the success of any modern organization.
Internal Information Systems
Supporting Your Success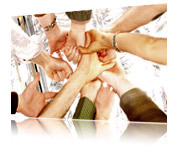 At Ursa Minor, we have found that successful deployment of web and media strategy for our Clients often goes hand in hand with the health of their internal information systems.
In the digital age, we generate increasing amounts of valuable data that must be stored safely and securely, and yet be easily available when and where we need it.
Successful mangement of web content, social marketing initiatives, and media communications depends on the smooth running of your email, servers, network and digital services.
Whether you're a small or large organization, or work out of a home office, we offer a range of IT services to support your holistic success.
Planning for Your Future Growth
Our services include network design and planning for your future growth, providing informed and objective advice on software and hardware purchases, and offering an unparalleled level of maintenance and troubleshooting support post-purchase. We can rescue data, implement back-up systems, configure wireless networks, and more.
We understand how paralyzing even brief periods of downtime can be, and therefore offer a variety of rapid-response support options.
Our IT Services include:
Custom Web Hosting and Server Administration
Network Design, Installation and Upgrades
Software and Hardware Troubleshooting and Repair
Virus / Spyware Detection and Removal
Internet and Email Configuration