A successful web strategy is more than a web site. It's an ongoing process of attracting, engaging, and responding to the dynamic needs of your community.
Every day we modern humans are confronted by increasing amounts of information. We are becoming less satisfied with institutional spin and look increasingly to social networks, search engines, and news feeds to help us discern what matters above a rising noise floor.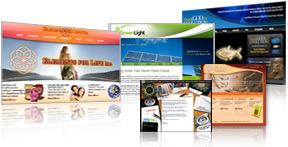 In this context, organizations need to give their audience an authentic experience that supports the social and cultural dynamics at play both inside and outside their team network.
To accomplish this, Ursa Minor has developed a comprehensive web development methodology we call Integral Experience Design. Using this collaborative and insightful process we deliver:

Award-Winning Design
Years of professional visual design, multimedia, branding, CMS, SEO, eCommerce, and social media expertise
Leading Knowledge Frameworks
Expert application of leading socio-cultural frameworks including Integral Theory, Spiral Dynamics, and Memetics
Coherent Solutions
Practiced ability to align the strategic, architectural, functional, usability, and aesthetic considerations necessary to produce effective web solutions
Ursa Minor produces intelligent and transformative web solutions for businesses and non-profit organizations at small or large scales.

We make sure your site precisely matches your strategic goals and gives your audience the engaging experience necessary to attain them.